Private cardiology in Harley Street
Our team of leading cardiologists, highly skilled radiologists, and dedicated nurses aim to provide a seamless, all-in-one service that covers everything from diagnostic testing to patient aftercare. By working closely, we ensure that every diagnosis is accurate and timely, focusing on delivering comprehensive patient care. We strive to create a comfortable and satisfactory healthcare experience, making your journey as smooth as possible.

UME Health Cardiology Services: Your Heart's Guardian!
Understanding Heart Disease: A Call to Action
Global Pandemic: In a world battling heart diseases, our clinic stands tall, offering comprehensive screenings and advanced diagnostics for early detection. 
Expert Cardiologists at Your Service: Our team of experienced cardiologists is dedicated to providing personalised care and developing tailored treatment plans to ensure the best possible outcomes for our patients.
Comprehensive Diagnostics
Our advanced facilities enable us to perform various diagnostic procedures like echocardiograms, stress tests, cardiac catheterisations, and cardiac MRIs, enabling us to accurately diagnose and treat conditions, thereby enhancing patients' overall cardiovascular health.
The range of heart conditions we diagnose and treat includes but is not limited to, coronary artery disease, heart failure, arrhythmias, valvular heart disease, and congenital heart defects.
Next-Day Specialist Appointments: Because Time Matters
At our heart clinic, you gain swift access to our team of cardiovascular specialists. We understand the urgency of timely medical care and offer next-day specialist appointments to ensure that our patients receive prompt attention and treatment.
Comprehensive Cardiology Services: Your Heart in Capable Hands
Discover our cutting-edge cardiac services, including advanced tests, diagnostic scans, and personalised treatment plans. From preventive screenings to complex interventions, we are committed to delivering the highest quality of care tailored to each patient's unique needs.
Meet Your Heart Team: A Symphony of Expertise
Collaborative Excellence: Our dedicated team includes specialist cardiac resident doctors, clinical nurse specialists, cardiac nurses, and other paramedical staff who work collaboratively to ensure the best outcomes for our patients. 
Staying at the Forefront: With extensive experience and training in the latest techniques and technologies, our team is capable of handling a wide range of cardiac conditions, from common to complex.
Exceptional Quality of Care: Your Heart Deserves the Best
Renowned Expertise: Experience our unparalleled commitment to providing the highest standard of cardiac care with us. Our team of highly skilled and dedicated professionals is renowned for their expertise and has a proven track record of delivering exceptional outcomes for our patients. 
State-of-the-Art Facilities: With state-of-the-art facilities and a patient-centred approach, we strive to ensure that every individual receives personalised care tailored to their specific needs, ensuring the best possible outcomes for their heart health.
The Heart Health Check Process: Your Journey to Wellness
Comprehensive Assessment: Our team conducts a thorough heart health check by evaluating your medical history, lifestyle factors, and existing cardiac conditions. This information enables us to develop a personalised plan, which may involve diagnostic tests, lifestyle modifications, and targeted treatments.
Empowering with Knowledge: We believe in empowering our patients with knowledge and understanding, so we will take the time to explain each step of the process and answer any questions you may have. Our goal is to provide you with the tools and support necessary to sustain your optimal cardiac health.
CaRi-Heart® Technology by Caristo Diagnostics
UME Health Harley Street offers revolutionary new technology to assess the risk of a serious heart condition or heart attack - many years before anything happens.
MYOSTRAIN - Novel Software Informatics to Transform Cardiac Care
MyoStrain is a first-of-its-kind proprietary 10-minute, quantitative heart health assessment that provides physicians with visibility into the subtle changes of myocardial function. Utilizing segmental intra-myocardial strain, MyoStrain helps physicians rapidly predict, detect and manage the early progression of heart dysfunction before symptoms occur to proactively prevent adverse events.
"MyoStrain is a promising technology to help ensure cardiac health in patients receiving potentially cardio- toxic cancer therapies."
Lauren Baldassarre, MD
Cardiologist, Associate Professor at Yale School of Medicine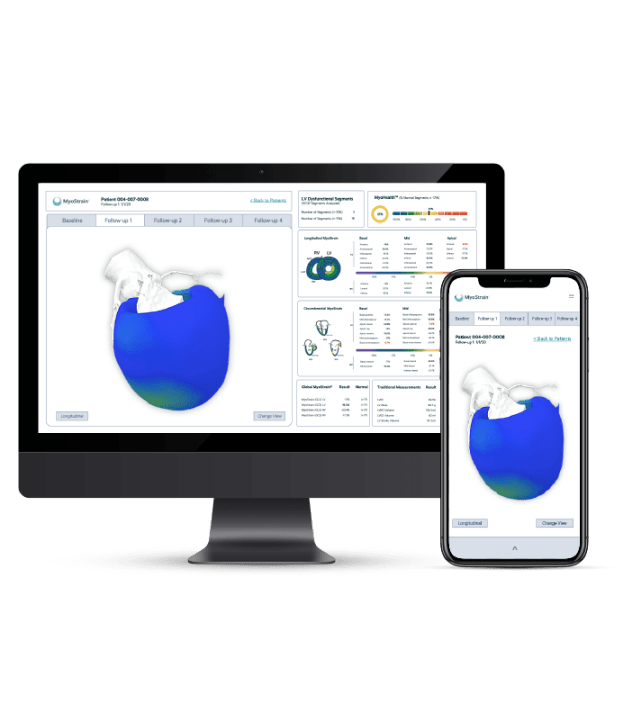 Single-use cardiac monitoring powered by Al technology
iRhythm is a digital healthcare company redefining the way cardiac arrhythmias are clinically diagnosed by combining our wearable biosensing technology with cloud-based data analytics and machine-learning capabilities. Our goal is to be the leading provider of first-line ambulatory electrocardiogram, or ECG, monitoring for patients at risk for arrhythmias.
The Zio service is a complete ambulatory cardiac monitoring solution built with the patient in mind - and reinforced with clinical evidence. We have created a unique platform, ZIO by iRhythm, which we believe allows clinicians to diagnose many arrhythmias more quickly and efficiently than traditional technologies, avoiding multiple indeterminate tests, allowing for appropriate medical intervention and potentially avoiding more serious downstream medical events, including stroke (iRhythm Clinical Publication Summary).
UME Health Cardiology Consultants
Why Choose UME Health Harley Street

Self-Pay Options
We offer self-payment options, and we can provide you with a breakdown of the expenses linked to your treatment.
Fast Scans and Results
We offer exclusive consultations every day at our specialised diagnostic facility and results of scans will be reported and delivered within 2 days.

Local GP Available
In case you're in need of immediate private GP attention, UME Health provides expedited services for the same purpose.
Friendly and Welcoming Staff
At our clinic, we take pride in our friendly and welcoming staff. We want our patients to feel welcome and cared for.
Harley Street Cardiologist FAQs
Welcome to our FAQ section on cardiology! We understand that patients often have questions and concerns about their heart health, so we have carefully selected a range of commonly asked questions related to cardiology. Whether you're curious about symptoms, treatments, or preventive measures, this section below is designed to help you find comprehensive answers to your queries. Our aim is to provide valuable information and address any concerns you may have, empowering you to make informed decisions about your cardiovascular health. Explore the FAQ section below to find the answers you're looking for regarding all things cardiology.
UME Health Patients Reviews
At our clinic, we strive to provide the best possible care to our patients. We are dedicated to ensuring that each patient has a positive treatment experience and receives the best possible care from industry consultants. Our goal is to provide a comfortable and welcoming environment where our patients feel cared for and supported throughout their treatment journey. We value our patients' feedback and are committed to continuously improving our services to meet their needs.
Very pleased they were able to fit me in so quickly. Easy place to find, and very comfortable surroundings. The 2 technicians were ver6 kind and made me feel very relaxed.
I visited Lumen for a full screening in November 2023. I chose the Lumen because for the last fifteen years I have had regular MRI assessments with Dr Garry Savin at his previous practice. Therefore, it was imperative that I visited his fabulous new clinic. Lumen have the most state of the art technology in the world of preventative medicine but my reason for choosing the clinic was because it is run by Dr Savin. Machines are machines but the difference with Lumen is the man behind the machines - that is the key - and Dr Savin is that difference. That is the reason why I've followed him to his Harley street clinic. Lumen offers a state of the art service that is in a league of its own. If you are able to take up the opportunity to have a screening you won't regret it and should there be any issues the diligent on going support is amazing and couldn't be bettered. When you buy a car it isn't just the vehicle you judge it is also the after sales service - Dr Savin's I would suggest is second to none. Lumen as a clinic is amazing. Dr Savin and his team provide a service that makes you feel relaxed, informed and cared for from the moment you arrive. His wonderful colleague Natalie Boden steers you through the day from assessment to assessment, with Dr Savin reviewing your every move. The location in Harley Street couldn't be more convenient, the building luxurious and the team ultra efficient. If you are wondering who should do your preventative assessment then I would say choose Lumen because you will get the most advanced technology alongside good old fashioned GP care. Lumen is the best and you won't regret choosing it for your screening. If you run a successful business perhaps you could provide for your staff a screening at Lumen? I'm sure they would be forever grateful and you never know you may just save a life! Finally, I would be very happy to provide further references on Dr Savin and Lumen if required. Please approach Lumen and ask for the person who provided this review.
Great place. Spacious, clean, welcoming and friendly reception. The site is equipped with an up-to-date equipment.
The staff are so friendly and work as team
Valentina Santo
2023-12-05
I highly recommend 17 Harley Street clinic, Doctor Nazir and all his team
I sought the help of PODOGO in June this year. After reading about Consultant Mr. Nazir background on the website, I thought that he would be the ideal person to investigate my problem; which was an ongoing foot injury that had been previously misdiagnosed by the NHS.Upon first meeting Mr. Nazir, it was very apparent that he was incredibly perspicacious in relation to his field, which was displayed by the way he was able to identify where my pain was, and his explanation of what could have been the root cause.This placed me at immeditate ease, by feeling he was more than capable to deal with my problem, of which I had suffered with for well over a decade with.Mr. Nazir very quickly identified what he suspected to be the problem, and arranged for a scan to be done. The scanned confirmed his suspicions that the injury was a fracture to my 5th metertasal bone, and that the tendon had been damaged, resulting in a full detachment.After carefully listening to the options Mr. Nazir suggested to fix my injury, I decided to go ahead with surgery, which was to remove a large piece of damaged bone, and reattach the damaged tendon.After suffering for a number of years, I placed my trust in Mr. Nazir to assist me in hopefully getting my full mobility back, and to be pain free, as this injury had had a serious impact on my overall health, for a considerable number of years. In my view, he has more than delivered on what he said he could.The day of the surgery was an absolute breeze, and all the staff that supported me, were also so professional by providing exceptional care.I am now approximately 8 weeks post op, and my foot has never felt so good, all my pain has gone away, and I am making great progress now, including being able to walk without any pain.To say I am surprised and elated at the success of the operation, would be an understatement.I am extremely grateful to Dr. Nazir for his extremely fast prognosis, diagnosis and successful treatment.I would highly recommend anyone to see Consultant Nazir, should they be in need of any foot related problem.
Michelle Eggleston
2023-12-01
Really impressed with service here. Went for an MRI appointment. Staff were welcoming and friendly, made me feel less anxious and very speedy. Would recommend to anyone.
Debra Vercammen
2023-11-29
Felt very safe and well cared for
UME Group LLP. Registration number: OC333533. A Company Registered in England and Wales. Registered office: 17 Harley Street, London, W1G 9QH ©Copyright 2023 - UME Group LLP. Built and maintained by Dezign41 London